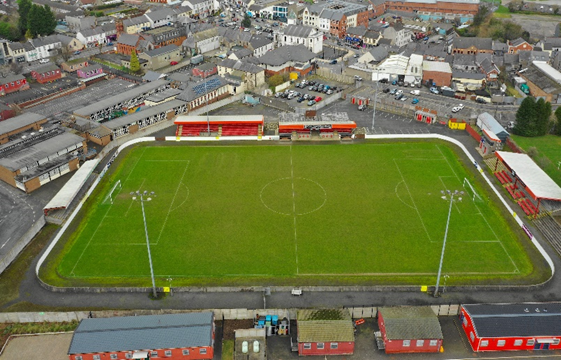 Ballyclare Comrades has recently celebrated 100 years as part of the Ballyclare Community and Dixon Park, in the centre of town, has been our home since 1936. The club purchased the grounds in 1967. The last major development at Dixon Park was in 2009/10 when the club undertook a project to take the facilities up to Premiership standard. It is a totally enclosed facility with a 2.8m perimeter wall, 8 camera CCTV system, full outdoor PA system, controlled entrances, grass pitch and is licensed by Antrim and Newtownabbey Borough Council to accommodate 2398 people.
The club commissioned a business plan in 2014 for the provision of an artificial pitch, upgraded floodlighting, new business and community facilities, and a 200 seat grandstand. Planning was approved for the first phase of this development but the anticipated funding mechanism never materialized, due to the collapse of the Executive in 2016. Planning approval was renewed in 2019. The anticipated funding mechanism has since re-emerged but has been a 'political football' and has, as yet, not become available for applications. The club have continued to pursue other funding avenues for the original plan but have so far been unsuccessful. Last year the club secured a loan to upgrade the floodlights to a modern LED system.
In the last decade we've transformed from a traditional mens' football team into a community based club, presently with 100+ boys between the ages of 11 and 18, 240+ girls between the ages of 5 and 18, 38+ men over 20 and 25+ women over 18, along with 50+ coaches and support staff. Plans are already in place to bring on board 80+ more boys between the ages of 5 and 10 later this year. The grass pitch is reserved for competitive Championship and Cup football for the senior team in the period mid-July till end of May, and the club have to rent training facilities for the senior team elsewhere. It also means all these young players have to find alternative facilities for training and competition, all over Northern Ireland, every week, The grass pitch is rejuvenated during the other 11/12 weeks, making it unavailable for summer tournaments, fun coaching sessions, community events, etc. The need for an artificial pitch at Dixon Park, with it's close proximity to schools, parking and public transport, is overwhelming.
Such a facility will have insatiable demand at certain times from Comrades and other football entities within the community, whilst there'll be other times when demand may be lighter and the facility can accommodate use by other groups. To be truly effective, it is also desirable to replace the existing clubhouse with a new larger, two storey facility which encompasses modern player, referee, business and community infrastructure. Such a facility would provide additional changing rooms, referee rooms, players room, upstairs viewing area, and adaptable rooms for community activities, fitness area, etc. This would enable the club to broaden their community engagement to include sports science, fitness, coaching, psychology, physiotherapy, food nutrition, mental health awareness, disability access, etc., transforming Dixon Park into a community based 'sports and wellbeing hub' to service the needs of our growing club, the town centre and the whole community. The two facilities, artificial pitch and clubhouse can be used simultaneously for different activities. Such a facility could be an ideal springboard for the regeneration of Ballyclare Town Centre. We are pleased that Antrim and Newtownabbey Borough Council will help us build a business plan to present to potential funders.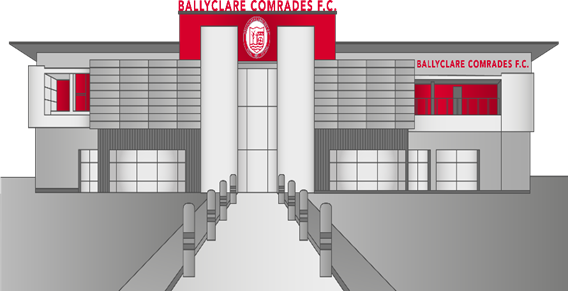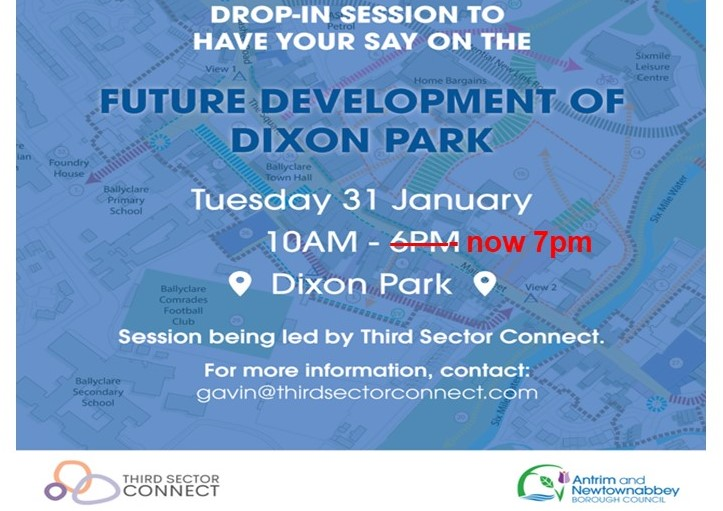 You may be familiar with the Peace Programmes that have been running for 25 years and have funded many projects across our Borough over the years. It is expected that the next round of European funding, known as PEACEPLUS, will be the last. This €1.1bn programme is designed to support peace and prosperity and leave a lasting and tangible legacy across Northern Ireland and the border counties of Ireland. Early indications have been that the Antrim and Newtownabbey area will receive in the region of €5.1m to deliver a Local Community Action Plan across the following three investment areas: Local Community Regeneration & Transformation, Thriving & Peaceful Communities and Celebrating Cultures & Diversity

To ensure the Local Community Action Plan delivers projects and initiatives which address the issues and needs of local communities across Antrim and Newtownabbey, we need your input and ideas in this development stage of the plan. Therefore, Council invites you to come along to any of the PEACEPLUS Engagement Sessions being held across the Borough and get involved in the design of the Antrim and Newtownabbey Local Community Plan, so that it will make a positive contribution to peace and reconciliation for generations to come.Share your views at these local DEA sessions or email  [email protected]
Airport DEA Crumlin Utd FC, Crumlin Wed 25 Jan 2pm & 6pm
Antrim DEA Old Courthouse, Antrim Thu 2 Feb 2pm & 6pm
Ballyclare DEA Town Hall, Ballyclare Wed 8 Feb 2pm & 6pm
Dunsilly DEA Toome House, Toomebridge Wed 15 Feb 2pm & 6pm
Glengormley DEA Lilian Bland Pavilion Thu 23 Feb 2pm & 6pm
Macedon DEA Valley Leisure Centre Wed 1 Mar 2pm & 6pm
Threemilewater DEA Mossley Mill Wed 8 Mar 2pm & 6pm
Check Council website to confirm dates.