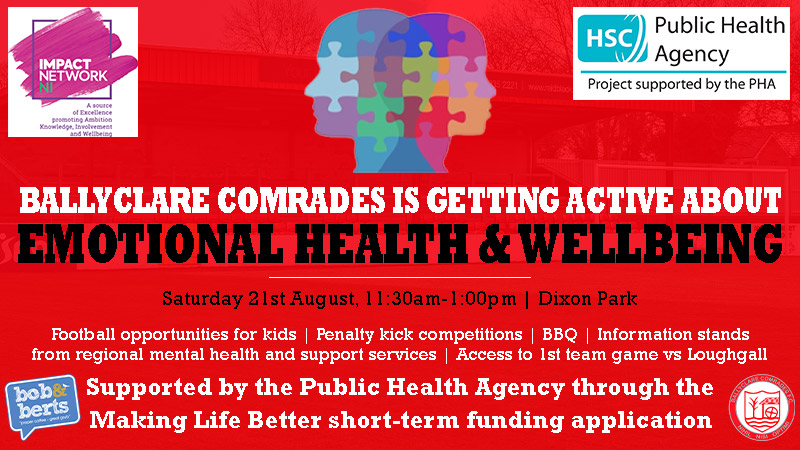 Ballyclare Comrades is Getting Active about Emotional Health & Wellbeing!
Saturday 21st August 2021 @Dixon Park; Gates open 11.30am
Please note: All children must be accompanied by an adult for this event!
This is a TAKE 5 STEPS TO WELLBEING EVENT:
We are seeking to make Ballyclare Comrades a Take 5 Community Group and will be holding a Wellbeing event (Saturday 21st August) to promote the Take 5 Steps to Wellbeing message and give parents and young people the opportunity to understand how this can work for them
We will have a number of voluntary/statutory agencies within the Z-card directory of services that will be available to discuss their support at this event and highlight how support can be accessed for these services. We hope to have a number of advice services to discuss access to grants for school uniforms and free school meals etc.
This event will be open to the whole community and aims to encourage Families/Carers/young people from the communities within the borough of Antrim/Newtownabbey to understand the importance/impact of mental health on emotional health and wellbeing; to access support and how using the Take 5 Steps to Wellbeing can assist them with this.
We will also have an unsupervised quiet space for children and adults to go to should they require this.
Asda are supporting this event through their Community Champion, so that we can have a BBQ at the event and all money raised is being donated to the local foodbank.
This event is being supported by Bob&Berts franchise.